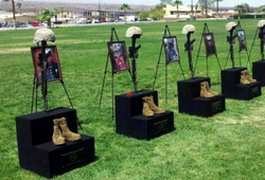 This year's Memorial Day has been particularly special to our family. About six weeks ago, our son Justin arrived safely from his second deployment to the war zone in Afghanistan, and made it back home yesterday for a month-long stay. He arrived just as the big celebration was beginning. We actually combined three events for this get-together, our 35th wedding anniversary, our son Jeff's graduation from SMU, and Justin's homecoming.
While we have been extremely blessed at this time, we must never forget the families of those who have not been as fortunate. The picture at right was taken from the marine memorial service last month honoring those who made the ultimate sacrifice for their country and for all of us. Let us also not forget our wounded warriors who will carry this reminder for the rest of their lives. I would like to encourage everyone who knows a family that has lost a loved one in our defense, please let them know how much you appreciate it.
In honor of all who have sacrificed their very lives for our freedoms, see our Memorial Day Tribute 2012 page on our main website. God Bless our brave troops.