Yesterday, I had the great privilege of attending the
Armed Forces Bowl
with my two sons and a bunch of great friends. Due to construction on the Ft Worth stadium, the bowl was held in Dallas at SMU's Gerald Ford Stadium. It was a tremendous experience, but to full appreciate it, I must tell of a couple of incidents that happened before we got to the game.
My older son Jeff, who attends SMU, had bought 16 tickets and went early with several friends. My younger son Justin, a US Marine who recently returned from Afghanistan, woke up to find his car had been burglarized, resulting in excessive damage, so Justin, his fiancé and I stayed behind to file the police reports. I found it ironic that he had spent nine months putting his life on the line to come home to this. We found out later that six other cars were hit in the area. Fingerprints confirmed that the same person was involved and that the police had a suspect.
Just about kickoff time, we left for the game and decided to take the DART train. I hadn't ridden the train in a couple of years, but had good service with courteous drivers when I rode it regularly in the past. The three of us got our tickets and walked toward the 11:27am train at Parker Station, along with two other parties that we did not know. We asked the driver if this train was going by SMU and she motioned for us to get on. Unfortunately, she must have been an Obama supporter because, as soon as she noticed my son's marine shirt, she locked the door and sped off, leaving us and the other two parties standing on the platform. We weren't too upset at first since we encounter this every now and then, but in one of the other parties, a mother and her young child had attempted to board and she had to pull her child back at the last second, thus avoiding a tragic accident. So, we all waited another twenty minutes and took the next train to the game.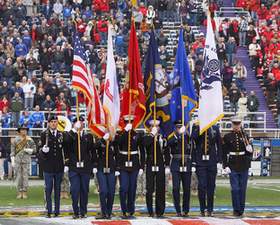 We arrived just as the halftime show was beginning, and what a contrast in attitude toward our veterans than what we experienced at the hands of DART. Many veterans received free tickets to the game. Dozens upon dozens of people shook my son's hand and thanked him for his service. A stranger behind us served in the same marine unit as Justin 30 years before.
The halftime show consisted of various honors and awards for our troops. A group of local army graduates were sworn in. Many wounded warriors were introduced to thunderous applause. As a surprise, Operation Finally Home presented a mortgage-free, custom-built home to Army Specialist Hugo Gonzalez, an Army war veteran who was severely wounded while serving in Iraq. The program also pays the property taxes for the first two years. On hand was his wife Amy and their three children.
During the second half, a couple of the latest marine attack helicopters were on display, and we received satellite feeds on the big scoreboard from troops in Afghanistan wishing their families and supporters a Happy New Year. At the end of the third quarter, the troops who piloted the flyovers were introduced.
Lots of other stuff was happening, but it was too much to remember it all. Oh yeah… in the middle of all this was a good football game, in which the Army Black Knights defeated the SMU Mustangs 16-14.