In modern times, the Christmas holiday season is filled with much hustle and bustle. We're blasted by ads urging us to save money by buying our gifts from a particular source. I haven't checked out any of the watchdog sites who inform us as to which retailers are hostile or supportive of using the word "Christmas" in their commercials and sale ads, but at least locally, there appeared to be more mentions of Christmas instead of the generic "holidays" or "seasons" this year. I even heard Best Buy use the word "Christmas" for the first time. I did notice that many such as Walgreens, who were using "holidays" in the past, stopped using either term and just urged customers to buy gifts without mentioning any occasion at all.
Of course, the hesitation or outright refusal to use the word "Christmas" is a part of the larger culture war against Christianity and any traditional or family values. Much of this hostility is led, or at least aided and abetted by our secular media. I'm usually not shocked anymore by many of the positions taken by the opposition, but I was mildly surprised by the angry tone of the comments posted on many mainstream websites by the "tolerant" left against the pro-Christmas programming by Fox News. The attitude of the media toward Christianity was probably best summed up by NPR's Nina Totenberg who said last week that "I was at -- forgive the expression -- a Christmas party at the Department of Justice."
Christians also receive much opposition and antagonism from our own government, a government originally founded on Biblical principles. Many large corporations, including some non-profit charities have followed their lead. In just the past week or so, we witnessed
--The Federal Reserve forced a bank in Oklahoma to stop displaying a Bible verse of the day and crosses on the teller's counter, and ordered the removal of buttons that said "Merry Christmas, God With Us."
--The Red Cross banned Christmas in over 400 of their fund-raising shops, ordering the removal of decorations or any other signs that might remind anyone of Christmas.
--A school in Virginia ordered student members of a "Christmas Sweater Club" into detention for singing Christmas songs, handing out candy canes and generally spreading Christmas cheer.
But before we begin to accuse the feds of being completely hostile to religion, we should point out that Mr Obama's Justice Dept recently filed suit against a school in Illinois on behalf of a Muslim teacher who wanted to abandon her students in order to make her once-in-a-lifetime trip to Mecca. Never mind that she could have taken the trip during summer break. The feds and ACLU are also strangely quiet when schools promote a day of tolerance, forcing students to dress in Muslim garb and adopt Muslim names. But, imagine the outcry if a school promoted a day in which students dressed as Bible characters. All involved, from the superintendent to the night janitors would be fired on the spot and possibly face civil and criminal penalties.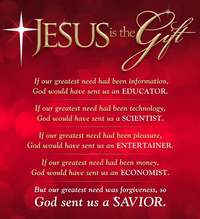 Yet, even with the hostilities toward Christianity, believers can peacefully rest in knowing that our sovereign God is in control. In contrast to the modern holiday chaos, we can look back at that silent and holy night when the Son of God came into the world as a little baby to continue the history of our redemption that was planned before the beginning of time. During a season of calamity and commercialization, we can joyfully sing "Joy to the World, the Lord is come! Let earth receive her King!"
We can take time to marvel, as did the shepherds as the angel accompanied by the angelic choir announced that a Savior had been born in the city of David. As they were probably too awed to speak, the only sound might have been an occasional bleating of sheep. They then followed the star on that clear night to find the Messiah in a manger. After worshiping him, they returned to their jobs, never to be the same again.
Perhaps the only time that some of us glimpse the true meaning and spirit of Christmas is at a Christmas Eve or Christmas Sunday service, but we should not limit ourselves however, to one day or week out of the year. Like the shepherds who returned to their daily lives praising God, we should attempt to glorify God with everything we do as we return to our "normal" routines for the rest of the year.
You are also welcome to read our The True Meaning of Christmas article.