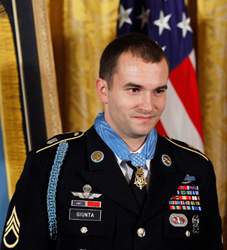 Last week, Army Staff Sgt Salvatore Giunta became the first living soldier awarded the Medal of Honor for heroism in the wars in Afghanistan or Iraq. Seven other brave troops were awarded this top honor posthumously during these wars.
After it was announced that he would receive the award, Sgt Giunta downplayed his heroics, saying that his actions in Afghanistan were merely what every American soldier experiences day in and day out during their tours of duty in that country. In recent interviews, he declined to discuss the events which brought him the medal, citing the painfulness of recalling them. This is certainly understood by most soldiers. My son returned from a tour of duty with the US Marines in Afghanistan a few weeks ago and has great difficulty in talking about his experiences.
Thus, the details of the events on October 25, 2007 are told by a group of reporters who were embedded with the 173rd Airborne Brigade Combat Team, Sgt Giunta's unit. According to an ABC News Interview and ABC News Report
Giunta's squad of eight soldiers was ambushed during a nighttime patrol in the Korengal Valley in eastern Afghanistan, an area so dangerous to American troops it had become known as the "Valley of Death."

An Army specialist at the time, Giunta charged headlong into a wall of bullet to rescue his squad leader, who'd been knocked down by a bullet to his helmet, and dragged him to cover. Giunta survived a bullet to the chest, but his life was saved by the protective body armor he was wearing. Under fire, Giunta immediately proceeded to recover two fellow soldiers wounded in the attack who had become separated from the main part of the squad.

It was after this that Giunta saw two Taliban fighters dragging away the body of another wounded soldier, Sgt. Josh Brennan, who was also one of his closest friends. Giunta threw grenades at the insurgents and after firing all his rounds forced them to drop Brennan to the ground. While under fire, he provided care to Brennan until medical help could arrive. Brennan did not survive his wounds nor did the squad's medic, Spec. Hugo Mendoza. Five other members of the squad also were hurt in the ambush. So fierce was the firefight that when the unit returned to base they discovered that every one of them had pieces of shrapnel or bullet holes in their gear.
At the ceremony, Sgt Giunta saluted his friends and fellow soldiers:
The Brennan and Mendoza families were in attendance at today's ceremony and received sustained applause when President Obama introduced them. Several of Giunta's squad mates also were on hand for today's ceremony and received a similar round of applause when they were introduced.

Following today's ceremony, Giunta displayed his characteristic humility when he said that though receiving the award was "an incredible experience," he added," I want to make it be known that this represents all service members from all branches that have been in Afghanistan since 2001 [and] Iraq since 2003, who were there yesterday, are there today and will go again tomorrow. I really appreciate them, because without their service I have nothing."

He called the ceremony bittersweet because days like today remind him of the night when "I lost two dear friends of mine, Spc. Hugo Mendoza and Sgt. Josh Brennan. And although this is so positive, I would give this back in a second to have my friend with me right now."

Giunta also praised the "unsung heroes of heroes of this war" who "never come back and return a handshake or give a hug or see their family. And we have to give the time to remember them. Because that is the quality of American soldiers we have willing to go to war, to fight and do whatever is necessary until the battle is done."
To Sgt Giunta, we say congratulations, and "Thank You" to you and every other brave soldier who is putting it all on the line daily for our freedoms.