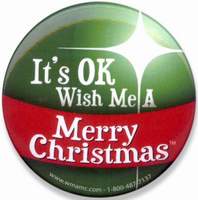 It's beginning to look a lot like Christmas, or at least a modern facsimile. In many stores, the traditional "Merry Christmas" has been replaced with "Happy Holidays", "Seasons Greetings", the Gap's "Happy Whatever-you-Wannakah", and other politically correct slogans. I was at the local Walmart (one of the more Christmas-friendly retailers) at Spring Creek and Hwy 75 here in Plano on Saturday. The greeter was hollering out "Happy Holidays" to everyone, but was wearing a small "Merry Christmas" pendant, so I guess she was attempting to cover all bases. Next to her lay stacks of the liberal
Dallas Morning News
, which contained a front page story about "Holiday" shopping and festivities.
Christians exchange gifts each Christmas in celebration of the birthday of our Lord Jesus the Christ, and to honor our great God, who gave us the greatest gift of all on the first Christmas, the gift of His Son. Retailers want us to spend our money buying gifts, but deny the reason behind our buying. If we remove Christ from Christmas, we remove the reason for exchanging gifts.
Unfortunately, to most modern minds, the most important right guaranteed by the Constitution is the right to not be offended. This, of course, is not in the constitution (or the popular Separation of Church and State for that matter), but we wouldn't know this from the decisions being made today. We see officials ordering the removal of any Christmas decorations whenever a single Scrooge complains that they are offended. The officials, however, rarely hesitate to offend the overwhelming majority who would like to see the decorations remain. Polls consistently show that even most unbelievers have no problem with the Christmas celebration.
I'm personally not offended by pagan holidays, or by those who choose to worship their false gods. I'm saddened of course, that so many people are missing out on the free gift of salvation, and we must continue to witness to the lost, but in a true pluralistic society, everyone is free to worship as they wish. That said, most liberals in government claim to believe in pluralism, but what they really promote is syncretism. Rather than each person being free to worship as they see fit, each person must accept all religions (except Christianity) as equal to their own, even combining bits and pieces of each religion to correspond to the god in their own mind.
Now, for the great news that our God is still in control. The retailer's denial of "Christmas" in favor of the "Holidays" peaked a few years ago. Thanks to the diligent work of a few organizations along with their grassroots support, we saw an increasing acceptance of Christmas in a few stores last year, and this year promises to be even better. While we still see the typical denial from stores such as Best Buy, Old Navy, The Gap, Radio Shack, Banana Republic, Staples and others, we're seeing many more include "Christmas" in their catalogs, advertising and displays. I'm even hearing some religious Christmas music mixed with the usual Santa and Rudolph songs being played in some stores.
Gift buyers may check on which retailers tend to be friendly, negligent or even hostile to Christmas at the following sites. Consumers who visit Stand For Christmas can rate the retail chains as being "friendly," "negligent" or "offensive" toward observers of Christmas, and also leave comments on specific stores.
Stand for Christmas – from Focus on the Family
"Naughty or Nice – from the American Family Association (2011 update: both posts removed)
For those who would like to know more about the legalities of observing Christmas in schools, government buildings or elsewhere, you may visit the Liberty Council, who is currently representing Christian organizations and individuals against attacks on our religious liberty. Finally, we encourage Christians to continue to support those retailers who acknowledge Christmas in their stores and ads, and who are not afraid to wish their customers a "Merry Christmas".