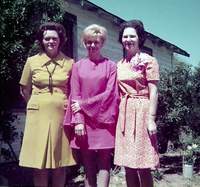 A couple of weeks ago, Aunt Louise (my mom's older sister) left this temporary life to go to her permanent home in heaven. I had not seen her in a while, so many of my memories are somewhat old and faded. Yet, because of her great love for her family, she always kept up with everyone else. Not a single birthday, graduation or any other special event would pass without us receiving a card at the very least. To a young man on a very hectic schedule, these cards and occasional calls brought a certain sense of normality, like an anchor in a turbulent sea. Unfortunately, she was an anchor that I all too often took for granted.
Aunt Louise and my mother, along with five other siblings, grew up in a small farm house in a rural area of Northeast Texas. As a kid, I used to love to play around the old barn, then one day found out that this "old barn" was the home in which they were actually raised. It was only used as a barn after my grandparents later built another house on the land. This other farm house became the family gathering place for Christmas and other special occasions.
Louise and my mom were typical sisters, always arguing among themselves but fiercely loyal to each other, probably because they were so much alike. During family gatherings, my mom and dad would sometimes get into petty (often good natured) arguments, and Louise would almost always take my dad's side (along with her youngest sister Claudene). I suspected she did this just to agitate mom, and it usually worked. You could tell my mom was perturbed when she started calling her "Norma Louise".
Read the entire Memories of Aunt Louise article, including additional pictures.