We wanted to begin by alerting our readers to a new temporary display this year in our nation's capital near the Lincoln Memorial. According to
Military.com
: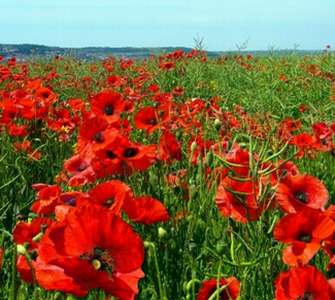 The Poppy Memorial is a translucent structure that measures 133 feet long, 8 1/2 feet tall and is filled with more than 645,000 poppy flowers — honoring every man and woman who gave their life in service of our nation since World War I. USAA is sponsoring the installation. Inspired by John McCrae's World War I poem, "In Flanders Fields," the poppy is a widely-recognized symbol of remembrance.

"The poppy flower symbolizes those who gave the last full measure in defense of our freedoms," said Vice Admiral (Ret) John Bird, USAA Senior Vice President of Military Affairs. The Poppy Memorial visualizes the magnitude of that sacrifice and reminds us all of the price that was paid. We are grateful to the National Park Service for allowing us to display this inspiring and educational exhibit among the permanent monuments, as a testament to the enduring bravery of our men and women in uniform."
In conjunction with the memorial, USAA has set up a website, Poppy in Memory, where anyone can dedicate a poppy to a fallen hero, and the poppy will then be added to the display.
For our annual Memorial Day Remembrance, see our 2018 Memorial Day Tribute to our fallen heroes who made the ultimate sacrifice for our freedoms. God Bless our Troops!