Tomorrow marks the annual Day of the Christian Martyr, and many Christians are paying special respect and honor this weekend to the legacy of those who have sacrificed their very lives for the advancement of the gospel. This day is chosen based on early church tradition that the Apostle Paul was martyred on June 29 in Rome during the reign of Emperor Nero in the mid-to-late sixties of the first century AD.
The Voice of the Martyrs (VOM), an interdenominational Christian missions organization that has been serving our persecuted brothers and sisters worldwide for over fifty years, maintains a memorial to Christian martyrs at its Oklahoma headquarters. This year's special inductee is Central African Pastor Jean-Paul Sankagui (Graphic courtesy of VOM).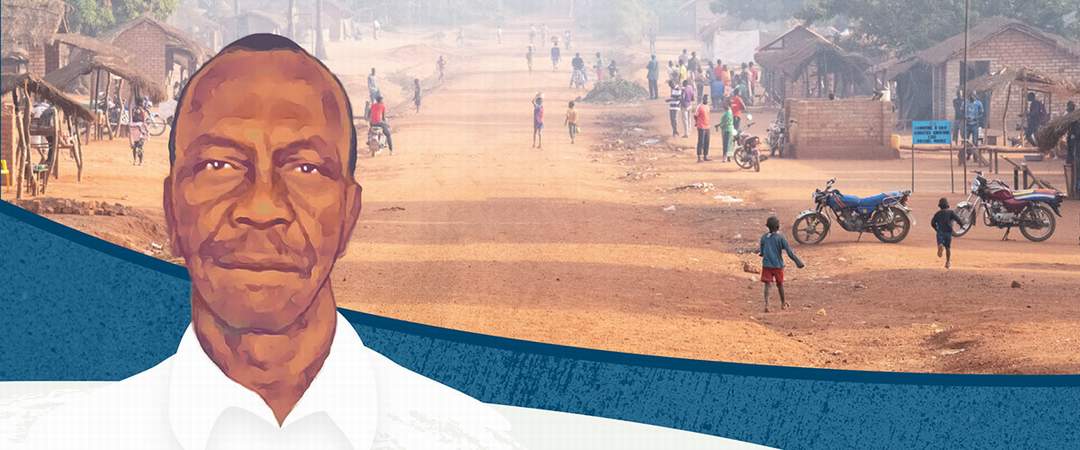 Pastor Sankagui's inspiring story is courtesy of the Voice of the Martyrs:
Pastor Jean-Paul Sankagui planted a church in a Muslim neighborhood outside Bangui, capital of the Central African Republic, in 1993. He maintained good relations with the community for years.

But civil war between Seleka rebels, government forces and anti-balaka militias changed everything.

Most of the pastor's church members fled the area as hostility increased toward Christians. And even the pastor's wife, Mary, urged him to leave the area and work someplace safer. But Pastor Jean-Paul stayed in obedience to what he believed God had called him to do.

On Feb. 7, 2017, Islamists shot Pastor Jean-Paul to death outside his church in Ramandji before looting and burning his house and church. Mary said they killed her husband because the community no longer wanted Christians in the area. She and Pastor Sankagui had been married 48 years and had 11 children and 17 grandchildren. After losing not only her husband but also her home and all her possessions, Mary had no choice but to leave the area.

Five other evangelical pastors in the region also were killed in the first five weeks of 2017. Pastor Jean-Paul knew the risks, counted the cost and willingly stayed to shepherd his small congregation and serve as a witness for Christ in the neighborhood.
For those who would like additional information and resources about Pastor Sankagui and/or the Day of the Christian Martyr, we encourage you to visit the VOM website for the Day of the Christian Martyr 2020 podcast, and a prayer guide for the Central African Republic. There are also additional resources for your church or small group.
We have supported our friends at VOM for years and believe them to be one of the most vital ministries for our modern turbulent times. In particular, we'd like to alert our readers to a particularly urgent need of our sisters and brothers, not only in the Central African Republic, but also in Nigeria, Sudan, Pakistan, Laos and several other African, Middle Eastern and Far Eastern nations. The number of Christian families forced out of their homes and villages in recent years has increased dramatically. Most are forced to flee with no food or provisions, only the clothes on their backs. They survive by sleeping on the ground and eating whatever edible plants they can find in the forests.
This is due not only to Islamic, Hindu and other militarists, but to superstition as well. The vast majority of many villagers worship the "gods" or "spirits" of nature (the river, forest, livestock, household idols etc). Many Christians are banished from their villages by their superstitious neighbors to avoid angering or offending these false gods or spirits. For those who would like to aid these displaced Christian families, VOM has set up a Help Christians Driven from their Homes campaign that delivers items for their basic needs. Thank you and God bless.