Guest Post by Jim Beatty – a fellow Servant of Jesus Christ

Witches, demons, fortune tellers, skeletons, ghosts, monsters and the like are common themes in October!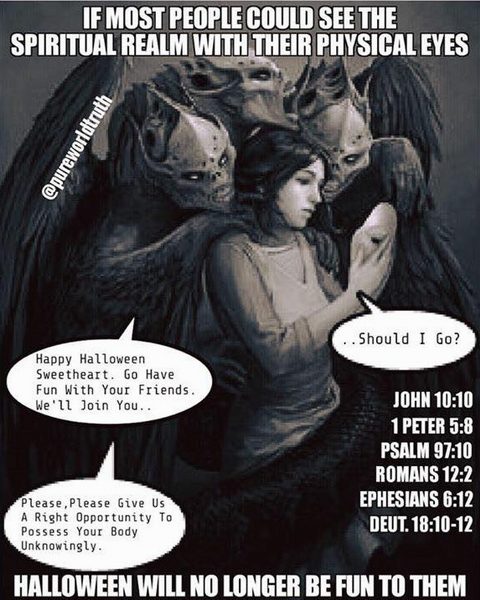 Samhain was celebrated on the night of October 31 when the Druids believed the boundary between the world of the dead and the world of the living was blurred and demons would visit. These spirits played tricks and caused havoc, so the Druids would offer sacrifices to appease these spirits, hence the modern holiday question: "trick or treat?"
The Druids dressed in costumes to look like demons in attempt to befriend them and celebrated the holiday with drunkenness, psychoactive plants and debauchery. They believed that by communing with the nether world, they could tell fortunes, cast spells and speak with the dead.
According to the Encyclopedia Britannica, Pope Boniface IV created All Saints day, celebrated November 1st, around AD 600. This holiday was called "All-hallows" and the night before it, "Samhain". Later, it became known as "All-Hallows Eve" and eventually, "Halloween".
Most people today believe such celebrations are just good, clean fun. Kids get to dress up and get candy while going house to house giving each one a choice, "trick or treat?" I mean after all, demons, witches, ghosts and goblins aren't real, are they?
If demons, astrology, divination, necromancy, sorcery and idols don't exist, why did God forbid these practices in the Law of Moses and again through Paul in 1st Corinthians 6 and Galatians 5, among other places in the bible?
There are at least a dozen Hebrew names for demons in the Old Testament and demons are mentioned by every writer in the New Testament, with exception of the unknown author of Hebrews; but he did mention their ruler, Satan. Jesus taught in many passages that demons do exist, and many instances are recorded of Jesus and his Apostles casting them out of people that had been possessed. Demons are the fallen angels and can take on various physical forms.
People of many faiths celebrate Halloween and the bible does say, "One man esteemeth one day above another: another esteemeth every day alike. Let every man be fully persuaded in his own mind." (Romans 14:5)
However, our bible also clearly says in 1 Corinthians 10:20-21 "But I say, that the things which the Gentiles sacrifice, they sacrifice to devils, and not to God: and I would not that ye should have fellowship with devils. Ye cannot drink the cup of the Lord, and the cup of devils: ye cannot be partakers of the Lord's table, and of the table of devils."
Maybe I'm old fashioned, but rather than putting on a ghost, devil, witch or monster costume, why not put on "the whole armor of God; the belt of truth, the breastplate of righteousness, as shoes put on the readiness given by the gospel of peace; the shield of faith, with which you can extinguish all the flaming darts of the evil one; the helmet of salvation, and the sword of the Spirit, which is the word of God"? (Ephesians 6:13-20)