Most of us have heard the unsurprising reports that much of the donations for Haiti relief is not reaching those inhabitants in need. It is widely known that the Haitian government is one of the most corrupt in the world, which has caused recent donations to decrease. Many of us however, rightly want to provide valuable needed aid to these suffering people. I have a co-worker whose parents and other relatives still live on the island. Thankfully, they were uninjured, but suffered great losses along with the others. Fortunately, there are many good Christian charities which have been working diligently to get crucial supplies to those most in need.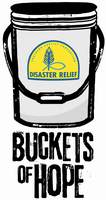 Dr Kim Hall at Hunter's Glen Baptist Church in Plano alerted us to the North American Mission Board's Bucket's of Hope ministry to Haiti, in partnership with the Texas Baptist Men. Kim emails that "we have made contact with Texas Baptist Men and have been assured that they have a good system of distribution which guarantees delivery of donated items." For those in the North Dallas / Collin County area, HGBC is providing a collection point for the buckets or other donations though March 7. See the church website for more information.
Other Christian agencies collecting for Haiti include the International Mission Board and Franklin Graham's Samaritan's Purse. Jennifer Kennedy Cassidy from Coral Ridge Ministries in Ft Lauderdale also emailed recommending Convoy of Hope. Although there are many other good charity agencies, these are a few that we've personally worked with, or that come highly recommended from trusted sources. It was reported that over 4000 bogus charities were estimated to be operating during the Katrina effort, so for those using less familiar charities, Charity Navigator is a charity watchdog group that complies and evaluates information on thousands of agencies.
Please continue to pray for the people of Haiti. As bad as the physical suffering has been, their spiritual needs are most important. Thank you for your generosity and God Bless.