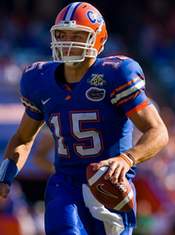 Congratulations to the New Orleans Saints on their 2010 Super Bowl victory. It was a fun game to watch, including the Who's somewhat strained performance at halftime. I last saw them in Houston in the early eighties. The Super Bowl is the only program I know that many people tune in to watch the commercials. I don't usually get hyped up about them, since most are way overdone, but I guess when a company is paying several million dollars a minute, they are pressured to come up with something out of the ordinary.
Perhaps the most anticipated commercial came in the first quarter. I'm speaking of the Focus on the Family (FOTF) Celebration of Life ad that featured Tim Tebow and his mom, and had been greatly panned by pro-abortion groups for the past few weeks. Tim is a dedicated Christian who won the 2007 Heisman trophy as the quarterback for the Florida Gators, the first sophomore to accomplish this feat. I worked in Gainesville and Jacksonville, Florida for a couple of years (2002-04), becoming somewhat of a Florida Gators fan (I already followed Florida State after meeting Coach Bobby Bowden, another great Christian, about ten years ago). We have a few Gator fans that have transferred to our Dallas office and I still work closely with our Florida offices on a few projects. This connection peaked my interest in what was already an intensely remarkable, appealing and motivating story of the Tebow family.
While Tim is not an activist, his faith has nonetheless consistently annoyed the "tolerant" secular left. Read the entire Tim Tebow Celebration of Life article, including transcripts, commentary, secular protests and reactions etc.