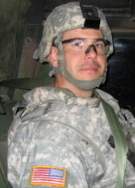 Here's a story from just a few miles up the road. Capt Michael Clauer of Frisco, Texas had been serving his country on dangerous missions in Iraq, and was responsible for the lives of over 100 soldiers. Yet, Capt Clauer returned home to find that the Heritage Lakes Homeowners Association had foreclosed and sold his $300,00 home over a debt of $977.55. Michael and his wife May had owned the house free and clear, but his HOA sold it at auction for $3,201 to Mark DiSanti of Dallas and Steeplechase Productions, who flipped the house to Jad Aboul-Jibin of Plano for $135,000.
The HOA had sent notices by certified mail demanding payment, but May was suffering from depression over her husband's absence, and she let mail pile up and didn't open any of the certified letters. She only found about the sale when the new owner demanded rent. The Clauers are now in a lawsuit to get their house back. Their attorney argues that her clients are protected from foreclosure by the Servicemembers Civil Relief Act. The federal law protects those on active duty from certain financial and legal obligations, including foreclosure, without a court proceeding. The attorney notes "This is so outrageous. There's a strong opposition to the power that HOAs are granted in Texas that goes beyond Capt. Clauer and his military status."
Indeed, this case, which has renewed a somewhat heated debate over the power of HOAs in Texas, could have a far-reaching effect. The HOA claims that the military erroneously told them that Capt Clauer was not in the military. At the same time, no one from the HOA bothered to knock on the door and personally contact May, as had been done in the past with other homeowners. From the Dallas Morning News update:
The Clauers have been allowed to continue living in the house under a judge's order. And this week, a federal district judge ordered all the parties involved to get together to try to reach a settlement on the question of ownership.

Trey Branham of Goldfarb Branham LLP in Dallas said if the suit's allegations are true, the HOA may have a significant legal problem. "There's some law in Texas that says property is unique and if you take it wrongfully, you're obligated to get it back," said Branham, who has represented both HOAs and homeowners on various legal matters. Other options, he said, could include buying the couple another house or paying them what the house was worth. "But none of them is inexpensive," he said.
WFAA-TV originally broke
the story
on May 14, and the DMN has an update
this morning
.
UPDATE (Aug 4, 2010): Ownership of Home Returned to the Clauers.