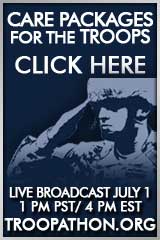 We're once again proud to participate in this year's Move America Forward Troopathon, an annual online fund raiser for our troops serving overseas. These brave men and women are putting their lives on the line daily to preserve our freedoms, in spite of the lack of support from many politicians in Washington. Many people may not realize that our troops are basically supplied with only a gun and a uniform (even certain parts of the uniform must be purchased). Anything else must come from the home folks. Liberal politicians can spend billions on bailouts for banks, GM and others, or to provide sweet deals for the union bosses, but won't cover the basics for our troops. We even had to send money to buy our son's body armor before he left. He is current serving with his marine unit in the vicinity of Kandahar in Afghanistan.
This year's Troopathon will be held on June 1 from 4pm to midnight eastern time. In it's first two years, the event has raised over $2 Million and sent over 168 tons of care packages to Iraq and Afghanistan, all to support our troops. Most of the liberal (so-called) mainstream media outlets are ignoring the event, however Fox News has run several features. Sponsors and participants include Melanie Morgan (President of Move America Forward), Sean Hannity, Laura Ingraham, Dennis Miller, Mark Levin, John Bolton, former Nebraska football coach Tom Osborne and many others.
Please click on the banner for more information or to make a donation. Here's a preview:
You can help make the daily routine of our troops serving in Afghanistan and Iraq a little more bearable and thank them for their services all at the same time.

We've heard from countless members of the Armed Forces serving in the Middle East about items that the military does not provide, are hard to come by and they really appreciate getting. That's why Move America Forward has responded and compiled care packages that contain these goods as a way of saying "thank you" for their sacrifices and courage. Care packages are packed full of gourmet coffee, Oreo cookies, Jelly Belly jelly beans, high-quality beef jerky, trial mix, Gatorade, deodorant, Chap Stick, sun block, CDs and much more.

Most importantly, each care package will include a personal message written by you where you can express your gratitude to our military.
All care package donations are tax deductible and start at $24.99. If this is too much for one person, please consider taking up a collection from your co-workers, friends, neighbors, church group etc for this worthy cause. Thank you very much for your support and praying daily for our brave troops.