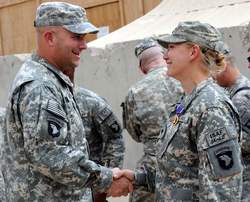 Here's a story you'll not likely find in the lamestream media since it involves heroism by one of our troops. Spc Patricia Fowler, a UH-60 Black Hawk helicopter crew chief, received the Purple Heart on August 5 at Kandahar Airfield, Afghanistan. Ms Fowler was a crew member of a chase helicopter on a medevac mission May 6 when the aircraft came under enemy fire while flying over Helmand province. Five rounds impacted the aircraft, and one round ricocheted off the window frame striking her helmet. Miraculously, the bullet rattled around inside Fowler's helmet, then exited without wounding her. The
Marine Corp Times
reports:
Spc. Patricia Fowler says the Taliban got a lucky shot off, but she was glad to take the bullet. Fowler, a crew chief and door gunner on a Black Hawk medevac helicopter in southern Afghanistan, earned the Purple Heart following that incident in May in which she was fractions of an inch from a much more serious injury, probably death. "I was just doing my job, and they happened to get a lucky shot off," she said in a phone interview from Afghanistan.

Fowler is part of Task Force Shadow and B Company, 5th Battalion, 101st Aviation Regiment, 101st Combat Aviation Brigade, 101st Airborne Division. In May, she was on a helicopter that was in the role of "medical chase," providing air support to another helicopter sent to pick up wounded Marines. "I feel worse for those guys than I do for us," she said of her fellow aviators, who set down in the midst of Taliban gunfire to rescue the wounded Americans. Fowler's helicopter was circling the rescue site at about 300 feet when gunfire started pinging off the helicopter. They began to climb, and Fowler described a sensation of being hit in the back of the head and scratches on her neck. What she would later learn is now a remarkable story of luck and bravery.

A bullet from the gun of an enemy fighter had bounced off the helicopter, into her helmet and back out, effectively navigating around her head thanks to a bracket in the helmet. "I had no idea at that time I had been shot," she said. Her fellow crew members could easily see what was a gaping hole in her helmet caused by the ricocheting bullet. She took off her helmet and saw the hole, and "a good chunk of Styrofoam" missing. Fowler had no idea what had happened, having never lost communication from the radio device mounted in the helmet.

Fowler's helicopter made it to a base where she could be seen by doctors. She had severe pain in her shoulder, which turned out to be shrapnel embedded in her arm from the pinging bullets. "I thought, 'Cool,' " she joked. She admits she had a small breakdown, realizing the narrow miss she faced. "If I'd have been sitting a half an inch further back, it'd have gone through my neck," she said.

And even though Fowler admits she missed certain injury or death by mere fractions of an inch, she said, "it justifies to me that I was doing my job." "We took fire away from them," she said of her fellow aviators and Marines, who were in the heat of battle below. Fowler and her commanding officer, Capt. Nick Horn, laughed while discussing the event and camaraderie in the unit, a sign that morale is high. "Sometimes I guess these guys are really amazing, but I have my few friends that keep me grounded," she said.

She also shrugged off the notion of being a sort of pioneer for women in the military. "I'm a soldier first," she said. "I'm not the first female [to be a door gunner], I'm not the last. I just work."
So, the national media continues to ignore the everyday bravery of our fine men and women soldiers unless they happen to give a poor terrorist a fat lip while resisting arrest, then they're guaranteed top billing on most networks and newspapers for several days running. Yet, despite a lack of support from a certain part of the populous, our heroic troops continue to routinely do their job to preserve our freedoms. To that, we say a heartfelt "Thank You and God Bless".