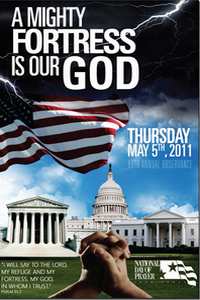 Tomorrow marks the 60th Anniversary of the Nation Day of Prayer, originally signed as a declaration in 1953 by Harry Truman. In 1988, Ronald Reagan signed a declaration designating the first Thursday in May as its annual observance.
Last year a Jimmy Carter appointed federal judge declared the day of prayer unconstitutional, but a recent ruling by a panel of the U.S. Court of Appeals affirmed the constitutionality of the law. The U.S. Court of Appeals for the 7th Circuit, based in Chicago, ruled 3-0 that the Freedom From Religion Foundation (FFRF) and its plaintiffs do not have standing to continue their challenge of the 1952 congressional act that declared an annual National Day of Prayer.
This year, millions will participate in organized events to be held in thousands of public venues where citizens will unite in prayer for America and its leadership. This year's theme, "A Mighty Fortress Is Our God," is based on Psalm 91:2, which states, "I will say of the Lord, He is my refuge and my fortress, my God, in whom I trust." For a wealth of information, or to find a National Day of Prayer event in your area, visit the National Day of Prayer website.
The official 2011 National Prayer is by Joni Eareckson Tada, Honorary Chairman.
Almighty God, you are our Mighty Fortress, our refuge and the God in whom we place our trust. As our nation faces great distress and uncertainty, we ask your Holy Spirit to fall afresh upon your people — convict us of sin and inflame within us a passion to pray for our land and its people. Grant the leaders of our country an awareness of their desperate need of wisdom and salvation in You until sin becomes a reproach to all and righteousness exalts this nation.

Protect and defend us against our enemies and may the cause of Christ always prevail in our schools, courts, homes, and churches. Lord God, send a spirit of revival and may it begin in our own hearts.

Remember America, we pray. Remember the foundations on which this country was built. Remember the prayers of our nation's fathers and mothers, and do not forget us in our time of need.

In the name of our Savior, Jesus Christ, Amen.
With all the uncertainty in the world, along with the most anti-Christian administration in history currently in power, our country needs our prayers more than ever. The following is a video released by the Walton County Florida chapter.